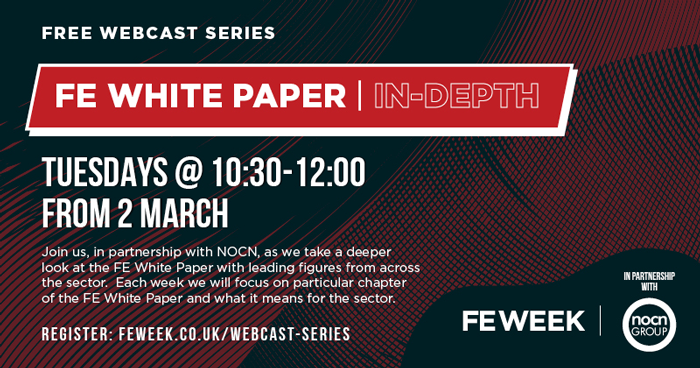 FE Week has launched a new six-week webcast series that will explore the government's recent FE white paper.
The series, which will be free to view, is being broadcast online in partnership with the education charity NOCN Group.
FE White Paper – In-Depth, will run for six weeks, with weekly broadcasts on Tuesdays between 10:30-12:00. Episode one will be broadcast online on Tuesday 2 March and feature the Department for Educations, Keith Smith.
Smith is the department's Director for post-16 strategy and a lead architect of the white paper.
Planned episodes:
2 March – Need for an FE White Paper – an overview
9 March – Chapter 1: Putting employers at the heart of post-16 skills
16 March – Chapter 2: Providing advanced technical and higher technical skills
23 March – Chapter 3: A flexible Lifetime Skills Guarantee
30 March – Chapter 4: More responsive and accountable providers
6 April – Chapter 5: Supporting 'outstanding' teaching
FE Week has held several online broadcasts in recent years. At the start of the Coronavirus pandemic, FE Week's dedicated briefing series for FE leaders attracted an average weekly audience of over 4,000 education leaders.
To view the series you need to register, for free, click here.