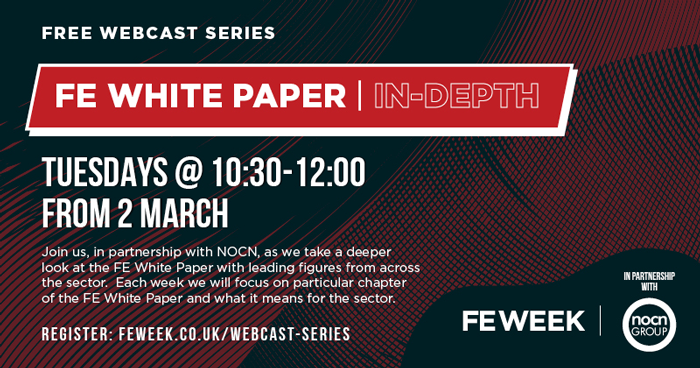 A free webcast update series from FE Week, in partnership with NOCN, to provide an overview of the Government's FE White Paper and what it means for the FE & Skills sector.
In this six-part webcast series we will take an indepth look at the government's FE White Paper with leading figures from across the sector.
Each session will begin with a briefing from Nick Linford, Editor of FE Week, who will be joined by colleagues to discuss what it all means for the sector. The webcast will be interactive, with opportunities to submit questions.
Register for the series to watch live and following the broadcast, receive a copy of each briefing alongside a link to the webcast recording.
Schedule:
2 March – Need for an FE White Paper – an overview
Special guest: Keith Smith, Director for post-16 strategy at the Department for Education
9 March – Chapter 1: Putting employers at the heart of post-16 skills
Special guests: to be announced
16 March – Chapter 2: Providing advanced technical and higher technical skills
Special guests: to be announced
23 March – Chapter 3: A flexible Lifetime Skills Guarantee
Special guests: to be announced
30 March – Chapter 4: More responsive and accountable providers
Special guests: to be announced
6 April – Chapter 5: Supporting 'outstanding' teaching
Special guests: to be announced