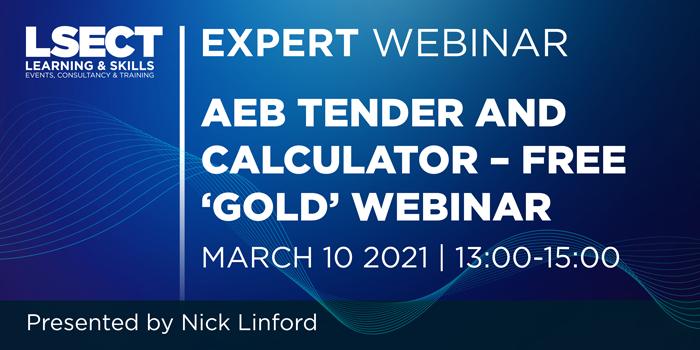 Nick will be delivering a live one-off webinar to support those applying for national AEB funding.
The session is free to existing Lsect gold members (who will have been sent an invitation, via email containing their discount code to register for the event) as well as anyone that becomes a gold member before 10 March. Click here to find out more about the benefits of becoming a gold member.
Attendees will receive:
Access to the live broadcast, which includes a Q&As
A link to a video of the webinar
The presentation, in the form of the slide deck
A one-off AEB tender volumes and values spreadsheet calculator, created by Nick
Topics to be covered by Nick:
National AEB tender overview
Scoring and how funding AEB will be allocated
What can we learn from past ESFA tenders?
Adult level 3 offer (National Skills Fund) – identifying it and £
Statutory entitlements – identifying it and £
Local flexibility – identifying it and £
Sector-based work academy programmes – identifying it and £
Key aspects of national AEB funding eligibility and evidence
Key aspects of national AEB funding formula and rates
Completing the tender volumes and values spreadsheet
Using Nick's AEB tender calculator for profiling funding
Final tender Q&A session
Curriculum, funding, finance, MIS managers and other senior staff will benefit, particularly from organisations such as:
Independent learning providers
FE colleges
Local authority providers
Sector related organisations (including LEPs and MCAs)
Other organisations with an interest in bidding for AEB funding
Places are expected to go fast, so book now to avoid disappointment.