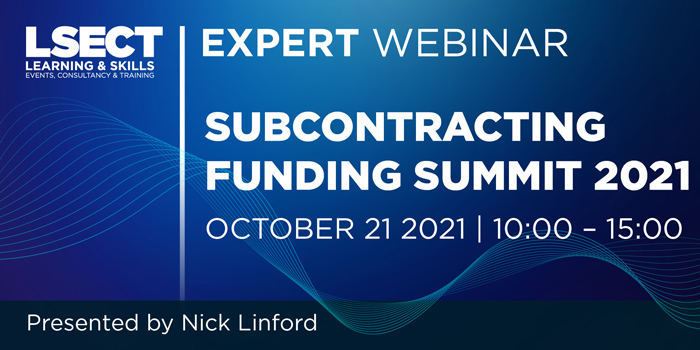 The ESFA has again made some significant changes to the subcontracting rules for 16-19, AEB and apprenticeship subcontracting. This annual update will provide an invaluable opportunity to hear the key changes, implications and best practice from experts in funding, contracting and audit. Miss this and miss out!
Note: all sessions will cover 16-19, AEB and apprenticeship subcontracting separately
Comments from past attendees:
> Marion Gibbon, Data Quality & Compliance Manager at North Herts College said: "Excellent, as per normal lots of information given in a short amount of time."
> Kevin Thompson Strategic, Commissioning Manager at South Tyneside Council said: "Very informative event with insightful speakers."
> Laura Lewis-Davies Apprenticeship & Training Programmes Manager at the V&A said: "The event was incredibly useful. The facilitators were clearly experts in their respective fields and delivered the content with no-nonsense clarity – a refreshing approach to policy!"
> Maureen Evans-Olsen, Apprenticeship Strategy Development at TJMorris Limited said: "It was a great event which delivered 'what it said on the tin' the information was factual and straightforward delivered in a style which was accessible and unambiguous."
Agenda
10:00 The subcontracting rules for 2021/22 – key changes and challenges
Nick Linford, FE funding expert and author of sector subcontracting guide
11:00 Managing new and existing subcontracting relationships ~ getting due diligence and contracting right
Mark Taylor, Partner, Corporate Education, Eversheds Sutherland
12:00 Comfort break
12:30 Funding, data and compliance: Audit advice for prime and sub-contractors
Karl Bentley, senior ILR and ESFA funding auditor from RSM
13:30 Ofsted's approach to sub-contracting and best practice
Speaker to be announced, Ofsted
14:30 The National Skills Fund and future of subcontracting
Nick Linford
15:00 end
Funding, finance, MIS, business development and other senior staff will benefit, from prime and subcontractor organisations, such as:
– FE colleges
– Independent learning providers
– Employer providers
– Local authorities and universities funded for post-16 provision by the ESFA
– Other organisations with an interest in ESFA post-16 funded provision
Places are expected to go fast, so book now to avoid disappointment. The fee is £215 + VAT per delegate (no limit per organisation), and bookings can paid online or via invoice, and can be cancelled 7 or more days prior to the event at no cost.
FE Week gold members will receive £75 off the cost of this event (gold membership must be in the delegates name). Find out more about FE Week gold membership here: https://lsect.co.uk/gold-membership/